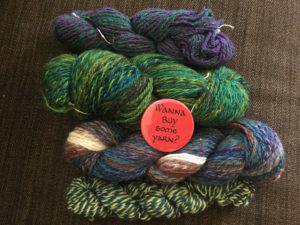 After some fiddling around in the guts of the site we have (so it seems) a functional shopping cart, which means I can sell you some yarn (just hit the "Shop", or "Yarn"  buttons at the top of the page)
I apologise if the present selection seems small, because it takes time to photograph, describe, and list them. Rest assured their are tireless gnomes slaving away to fill the shelves.
So, if you don't see anything you like right now, come on back, there will be more.
And tell your friends.